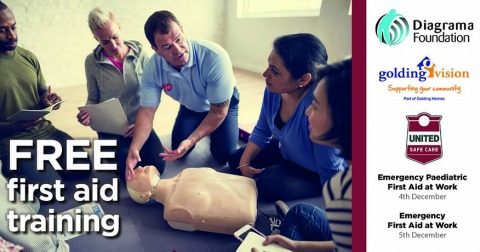 Golding Homes Community Chest is currently sponsoring two training courses to be delivered by United Safe Care on behalf of the Diagrama Foundation charity.
Emergency Paediatric First Aid course will be held at Greenborough Close Day Centre, Maidstone, ME15 8JN, on December 4, from 9.30am to 4.30pm.
Emergency First Aid at Work will be held at Harbledown House, Fant Lane, Maidstone, ME16 8NZ  on December 5, from 9.30am to 4.30pm.
These fully accredited courses offer participants the chance to achieve recognised first aid qualification. The courses have been fully funded and are available free to anyone currently offering their time as a volunteer, to job seekers and to foster carers in Medway, Maidstone and surrounding areas. Some evidence of eligibility may be required.
Shane Newcombe, Operations Manager for United Safe Care said: "These are vital life-saving skills which every member of the public should have. We're hoping the training will help improve employability skills for job seekers as well as equipping volunteers and foster carers with the confidence to know how to respond if ever faced with a medical emergency."
12 fully-funded places are available on each course. If you would like to a place on one of these courses please contact Shane Newcombe on 0800 169 0255 or email info@unitedsafecare.co.uk for booking details.